The 2021 incarnation of the British Student Quizbowl Championships took place last Saturday, 6th March, with the COVID restrictions meaning that it was held on Zoom. Cambridge A came into the competition as the reigning champions, with Oxford A hoping to retake the title and Southampton A in the hunt for their first title. In our preview we had narrowly tipped the Oxford side as likely champions, and indeed they prevailed over every team they faced to be crowned BSQC champions for 2021. This year, a team of established British quizzers worked hard adapting the American WORKSHOP packets to suit a British audience, while also crucially upping the pop culture content, including more sports, pop music and film/TV, as well as more eccentric traditions. Let's reflect on what happened throughout the day.
The 24 teams were split into four brackets, where they played a five game round-robin. Oxford A, Cambridge A, Southampton A and Oxford B won their respective brackets undefeated, taking the first seeds going into the afternoon, and followed by Oxford C, Edinburgh and rivals Imperial A and Warwick A who only lost to the top team in their bracket. The A bracket saw a wildcard Queen Mary team playing at their first tournament in over 3 years where they beat the much more established Glasgow A into 4th place and Imperial B into 5th. The B bracket saw a tight last match to determine the third seed between Warwick B and Manchester, which the latter won by the narrow margin of 270–225. Group C saw close games between Glasgow B and Bristol and between Warwick A and Cambridge B who claimed third place despite scoring more highly in other games. Group D proved little trouble for Oxford B's all-star team, while it was a much more tense affair between the middle teams, with all of Imperial A's games coming down to the wire, especially against the strong Oxford D side, who found themselves in a knife-edge game against Warwick C, winning 250-245, and losing against Cambridge D. All morning statistics, as well as where they left the teams in the afternoon, are available here.
The afternoon saw teams placed into one of three brackets, with the top two teams from each morning bracket entering the top bracket, and the bottom two in the lowest bracket. In the lower bracket, Warwick C's knowledge of the core quizbowl canon meant they were not unduly troubled, only losing to Glasgow B and narrowly pipping Imperial B to the post to win their bracket. After a strong showing in the morning, Oxford D breezed past their afternoon opponents to win the middle bracket, while the two University Challenge teams of Birmingham and QMUL had their first of what may be many encounters, with the Midlands side prevailing. Birmingham's captain, experienced quiz league player Michael Bartelle, said that "In general, I'd say that I thought the content of the packets really put us all through our paces. As a relative newcomer, I thought the tournament felt well-organised and the atmosphere was friendly. And I really appreciated some of the humour and fun that some of the mods brought, even after 10 hours of reading! Every match I participated in had some stunningly impressive answers and performances. It was such a treat to get to participate in a quiz environment of such a remarkably high calibre."
Meanwhile, the afternoon saw Imperial A continue their habit of upset wins against top teams: strong performances by budding literature and history specialists Enoch Yuen and Max Zeng, newcomer Felix Roberts as well as the experience of Michael Kohn saw Imperial beat defending champions Cambridge A in one of the biggest upsets in the history of BSQC. Other highlights of the top bracket were a game that went to the final tossup of the day between Warwick A and Imperial A. Edinburgh dashed Imperial's hopes of beating the second seeded teams, while also narrowly beating Andrew Rout's Warwick side. Oxford C's strong performance against these three teams, casting aside Warwick with ease, and Oxford B's score of almost 400 points per game not dented by the top teams also shows that the teams near the top continue to narrow the gap as younger players improve. Taking advantage of Cambridge's early loss, Oxford A defeated all the other teams in the top bracket, surviving an extremely close match against Southampton A which went to the final tossup (350-310). Oxford's 420–295 victory against Cambridge in the last round allowed them to clear the field, taking the title without the inconvenience of a high-pressure final. Cambridge's storming 450–175 victory over Southampton A was enough to give them second place, leaving Southampton third on tiebreak (as both teams had two losses).
Alex Hardwick, a member of the winning team, says, "When I started quizzing competitively three years ago, I never thought I'd end up playing on Oxford A, let alone winning a national title with Oxford A! It's been such an honour to play alongside this experienced, talented and most importantly lovely team, who are all equally brilliant at and passionate about their academic specialisms. I honestly thought the dream was dead when we were 140 points down against an on-form Southampton A, so I'm delighted we pulled it off!"
There would yet be a spectacle to be watched in the friendly 'final' of Oxford A playing the four individual top scorers of the day: Evan Lynch of Southampton A (98 ppg), Joseph Krol of Cambridge A (92), Seoan Webb of Oxford B (68), and Nick Winter of Edinburgh (53), while other high scorers included York's Eoin O'Reilly and Glasgow A's Vitalijs Brejevs, whose score of nearly 60ppg was made even more impressive given some of the highest numbers of powers of any player, but also some of the most negs seen in UK Quizbowl on what proved to be a very tricky set. It was a keenly fought match, but the sheer experience and specialisms of the exhibition team just edged out the Oxford side 390–335, still a testament to the strength of the Oxford side of literature specialist Alex Hardwick, historians Alex Peplow and Oli Clarke and scientist Jacob Robertson.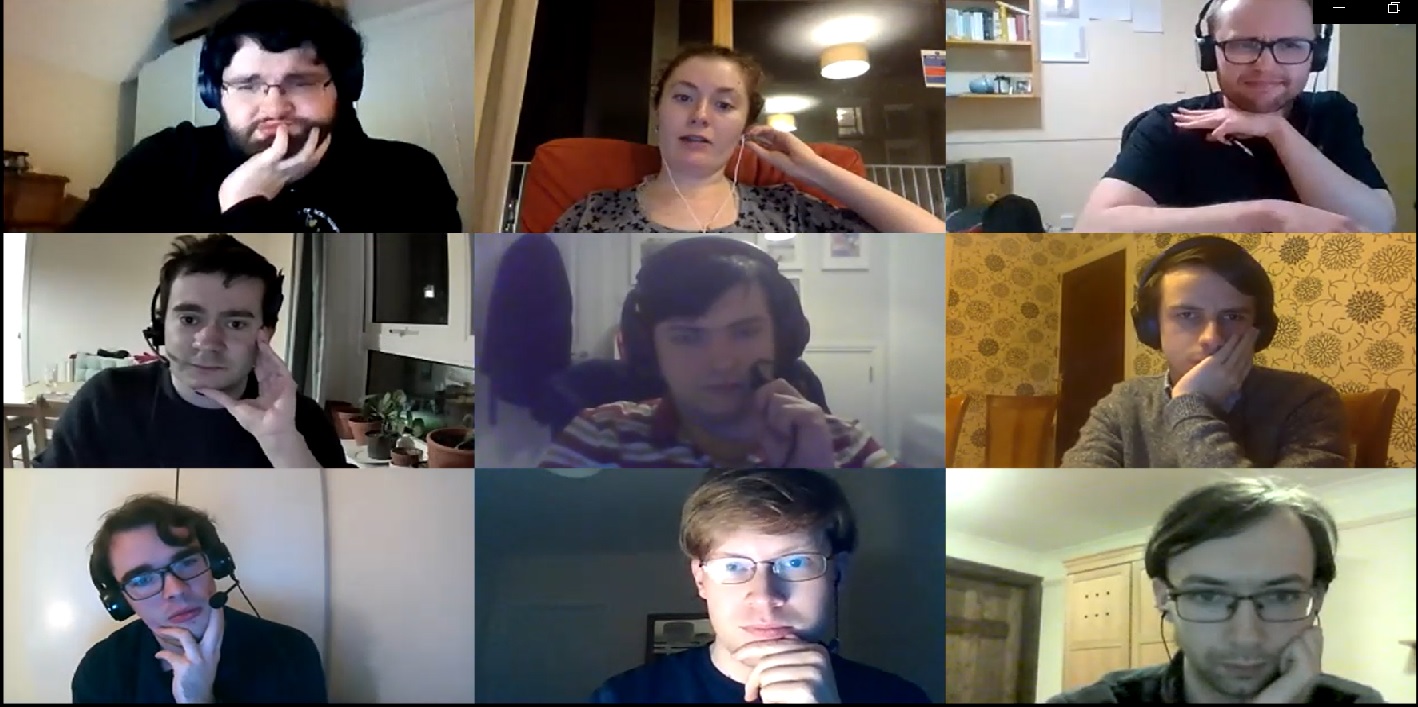 Participants of the final, left to right, then top to bottom: Evan Lynch (Southampton A), Claire Jones (moderator), Nicholas Winter (Edinburgh A), Alex Hardwick (Oxford A), Seoan Webb (Oxford B), Joseph Krol (Cambridge A), Oli Clarke, Alex Peplow and Jacob Robertson (all Oxford A).
It only remains to thank the BSQC committee who worked tirelessly to adapt and write questions and ensure the day ran smoothly, alongside the fantastic team of moderators Ewan MacAulay, Claire Jones, Tom De Bock, Edmund Dickinson, Ellie Warner, Ben Salter, Chris Stern, Andrew Frazer, David Knapp, Andrew Corsini, Ian Bayley, Steve Barnes, Andrew Fisher, Diana Priyadarshini, Tristram Cole, Daisy Fry, Cameron Lumby, Dan Arribas, Matthew Toynbee, Rahim Dina, Andrew Fisher, Michael Levy and Daoud Jackson.
UKQB president, George Charlson, said "BSQC had to overcome a new hurdle this year, as hosting online brings its own unique challenges. I like to think we managed to meet this challenge head on, and deliver another testing but fun and fair tournament. Oxford A were worthy winners this year, congratulations to them and every other team that took part."
---